Hi, Chuck Hughes here.
Thank you for being one of the first to take action on this brand new opportunity, available nowhere else on the planet!
Here's what I want you to know…
When you have a perfect trading strategy for all three market climates… it doesn't matter what the government or the economy does next…
And that's what I've done with Triple Threat Trader.
With the goal of growing my portfolio 5X in the next three months…
And I want YOU to join me for the ride!
Now, Triple Threat has never been released to the public before… and no, if you join TODAY you won't be paying $14,997.
When you join right now, you'll be getting early access to my most fine tuned trading system I've ever made… and at a steep discount…
Plus, insights unavailable to the rest of the world in my T-3 Blueprint and T-3 Weekly Forecast.
But I'm only offering this exclusive trading membership on this page…
Select Your Membership Level With Just One Click Of Your Mouse!
I want you to get started right away, because right now I have NEW trades I want to rush you...
You'll get immediate access to:
The brand new Triple Threat Trader alerts...
This week's T-3 Forecast…
The Triple Threat Bootcamp Video Sessions…
And tons more…
You'll want to see the signals and take action right away because…
These Proprietary Trades Have Helped Me See:
Today, you'll be able to jump in on the most explosive trades I've ever revealed…
Again, the trade alerts you will be receiving are proprietary and will NOT be available in any of my other services…
Luckily for you, I won't just be sending you the trades…
I'll be sharing with you my best kept secrets on how to find them yourself!
My goal is to transfer my 30+ years of experience and knowledge onto you.
I realize, this could legitimately put me out of business.
But with all the uncertainty ahead right now… it doesn't matter to me…
I've been able to make my millions from the market…
Now it's YOUR turn to take what I've learned and perfected and apply it in your own life…
I want YOU to succeed… I want YOU to be the Champion!
That's exactly why I'm opening this brand-new exclusive membership: The Triple Threat Trader.
Just look at everything you're getting today: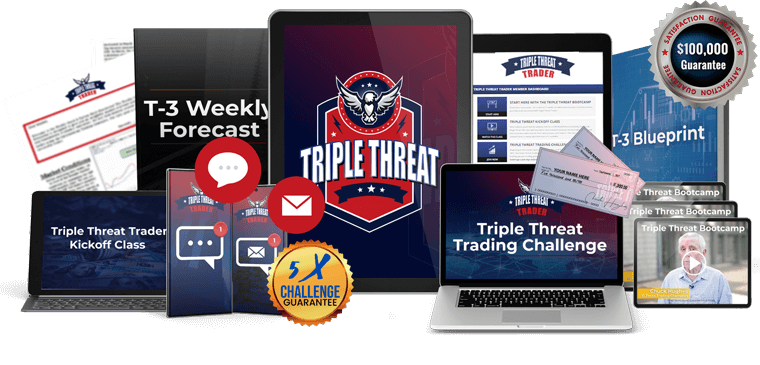 4-8 Mega-Trend Breakouts Alerted Every Month
4 Profit Pocket Alerts Every Month
2-4 Double Paydays Alerts Every Month
Invitation To The $50,000 Triple Threat Trading Challenge (Plus Prizes)
BONUS: T-3 Blueprint
BONUS: T-3 Weekly Forecast
Triple Threat Trading Bootcamp ($5,000 VALUE)
The Triple Threat Kickoff Class
And so much more!
And of course, I'll be sending trade signals out for those who want to own stock OR options…
Don't forget… I'm backing it all with my $100,000 guarantee.
I'm so confident in this brand new program… that I'm guaranteeing that the signals shown in my personal model portfolio for Triple Threat Trader will result in profits of at least $100,000 the first 12 months – guaranteed!
If I fail to hit this mark after your first year of use, then you can call my team and we'll grant you a FULL refund.
100% of your money back, no questions asked.
So to get started as one of the founding members of Triple Threat Trader, just select your membership level below.
When You Have A Perfect Trading Strategy For ALL THREE Market Climates… It Doesn't Matter What The Government Or The Economy Does Next.
Take the first step. Become a Triple Threat Trader today.
And believe me, I can't wait to hear of your success… and how your life has changed for the better over these next few months…
Don't forget! I've already posted the brand new Triple Threat Trade Alerts for you to access right away once you complete your membership…
If you have any questions, just call my team at 877-212-2644
I can't wait to partner with you in your journey!