Even Beryl Capital has thrown their hat in with over $26 million at stake!
Lance has his full research report waiting for you as a special bonus to his proprietary research service Sweet Spot Stocks…
Since early 2020 Lance has been issuing monthly reports on his top Sweet Spot Stock – under-the-radar growth stocks primed with potential.
He scours the market for stocks right inside what he calls the "Sweet Spot," usually sitting between $13 and $19 a share.
These aren't risky penny stocks – they're under-the-radar stocks that have the background and strength to push them to the moon!
Just look at one of his picks…
Lance alerted his readers to buy DraftKings at $15 in February 2020…
Anyone who took Lance's recommendation could have ridden that stock to it's $74.38 high this past March 2021… that would have been a 395% gain!
Enough to have turned $1,000 into $4,950 in just over a year…
Or in December 2020… when Lance recommended buying FUV at $12.50… before it moonshot all the way to $36.80 just 65 days later…
That's a 194% gain in just over 2 months!
A $2,500 starting stake would be sitting at $7,350 in less than three months…
I'm sure you can see why people have paid thousands of dollars to access Lance's top trade ideas…
But today, we're doing something very special…
Inviting YOU to take his Sweet Spot Stock picks for just pennies on the dollar...
When you join today, you will get access to Lance's DailyProfits War Room for live trading…
AND you gain access to the next 12 Sweet Spot Stocks FOR ONLY $15!
And this includes ALL bonus reports…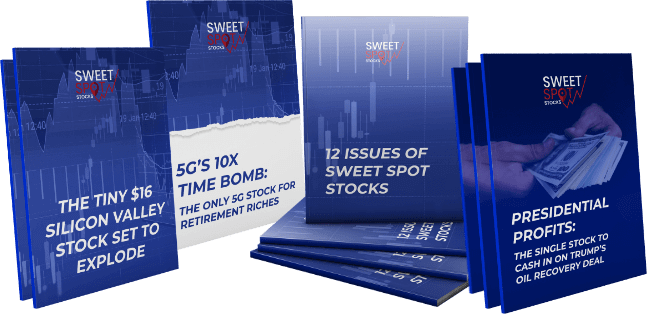 Outside of monthly Sweet Spot Stock issues you'll have access to Lance's entire library of special bonus reports that he releases when he finds exciting opportunities he wants to get new members in front of…
Like in May 2021, when he sent his readers a detailed report on Editas… a company that was on the forefront of new medical breakthroughs…
As a bonus report, this stock didn't fit the specific "Sweet Spot Stock" criteria…
Even still, he told his readers to get in at $35…
Before the stock hit a high of $99.95 – a 185.5% gain!
Enough to have more than DOUBLED an investment – yet again.
And Lance is always looking to overfulfill on his promises…
Even though Sweet Spot Stocks only promises 12 picks a year...
In 2021 alone, Lance has issued 20 recommendations inside of his special bonus reports that are completely free for his members…
That's on TOP of his monthly stock report.
He's gone above and beyond to deliver more than TWICE as many trade ideas than promised…
And if he keeps up that pace, anyone who takes advantage of this special offer could wind up getting a total of 32 stock recommendations…
But Lance wants to get you in front of his #1 EV Play for the New Year…
And he wants to get you inside of his war room ASAP!
So this special is available for a limited time only…
SECURE YOUR ACCESS TO THIS
SPECIAL OFFER FOR ONLY $15!
The moment you complete the form below, you instantly lock in access to…