Lance Ippolito Finally Unveils Your Exclusive MembershipTo:
Weekly 3D Profit Surge Alerts
Grab The 3D Surge Alert... Make The Trade... Sit Back and Profit With Potential Returns Like 100%, 159%, and Even 566% In Just Days!
Respond Before Midnight Tonight to Receive: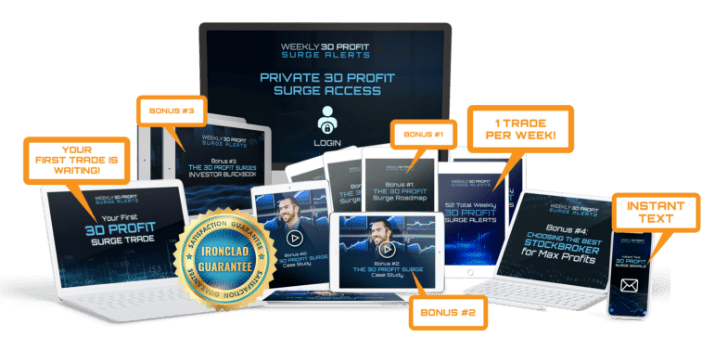 Lance Ippolito here. I want to congratulate you on making the decision to join my biggest project to date, 3D Profit Surge Alerts.
A full year of 3D Profit Surges costs $5,000 if you were to find our offer directly from our website…
But today, you can join for a special charter price of only $1,497. That's over a 70% discount for just being here right now!
Even better, my publisher has demanded I sweeten this special one-time deal for you…
Simply put, for today you can now get TWO full years of 3D Profit Surges Weekly Alerts for only $1,995!
Your shot at clearing massive returns within just days by ONLY focusing on what I call the third dimension of the stock market.
By taking action today, you will join an elite club of traders all while everyone else continues to compete for overpriced stocks in the first and second dimension of the stock market.
All you will need to do is ignore everything else and simply place a 3D Profit Surge trade when I send it to you.
It's that simple.
And your first 3D Profit Surge Alert is waiting for you at this very moment you're minutes away from getting started.
Here's a look at everything you will receive today with your exclusive membership...
What You Will Receive With Your Membership:
52 Total Weekly 3D Profit Surge Alerts
1 Simple Trade Per Week to Target Massive 3D Profit Surges!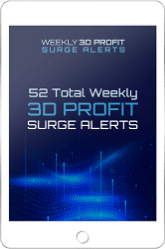 I've created the only group in the world dedicated to providing 3D Profit Surge signals as they happen in real time.
But please keep in mind that this is only for dedicated people looking to transform & upgrade their trading for good this very year.
My people and I are targeting high-probability trades with a shot at regular double-digit and triple-digit wins.
We've already seen shots over 100%, 150%, and even a wild 500% in just days.
I'm looking for members who are ready to tap into the power of 3D Profit Surges every single week, "working" less than 1 hour per week.
We have an incredible win rate that has stayed above 80%, and if you want to win alongside me...
Then you may be in the best position of your life right here and right now.
Because throughout the next 12 months, I'll give new members 52 different chances at incredible 3D Profit trades every single week..
That's 1 new 3D Profit Surge trade (at minimum) per week.
And only the best of the best that are filtered through my stringent system.
I have the personal goal to target 10x returns in the next 12 months....
Which should be doable, since I've already offered a few of my readers over 16 times their money in the last 11 months.
These 3D Profit Surges are triggering every single week you just have to be there to get in.
And now I want to give the power of 3D Profit Surges to new members starting right now.
You're also going to receive…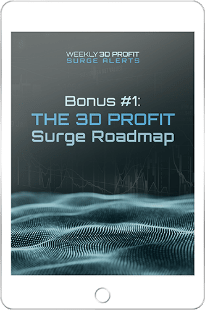 Bonus #1: The 3D Profit Surge Roadmap
How I Collected Gains Over 100%, 150%, and Even 500% In Just Days - At an 80% Success Rate!
Now, it's your turn. You can tap into 3D Profit Surges to get in within 48 hours right before their stock surges.
Your step-by-step PDF blueprint will offer you everything you need to know...
My goal is that at the end of this blueprint, you will be able to identify 3D Profit Surges without even thinking about them.
Even better, you will get a sneak peak at ALL the past trades I've made and see how I've successfully created and kept my success rate higher than 80%.
It's like having a little cheat sheet about what may go down in history as the most disruptive trading strategy ever discovered.
And anyone who has it will be able to find these trades on demand and be able to brag to their friends and family about these massively profitable secrets.
Bonus #2: The 3D Profit Surge Simulator
An Exclusive 3-Part Simulation Revealing The 3D Profit Surge Discovery & Live Trade Walkthrough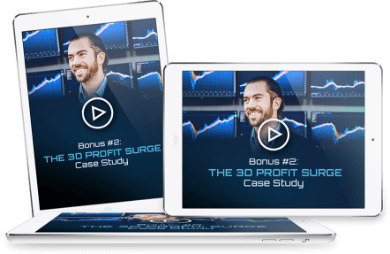 I'm taking YOU behind the scenes.
I'm revealing a play-by-play on how I execute these trades from the beginning to the end...
I'm personally walking you through everything…
Spotting a 3D Profit Surge as it comes to me live...
Placing the trade...
Even my exact checklist for turning this simple trade into a maximum payday.
It will basically be your groundwork to go from a rookie to an expert in just a few videos with 3D Profit Surges.
So while everyday folks are scrambling, looking at complicated trading charts...
Or waiting for a news release from Yahoo! Finance... or waiting to see Warren Buffet's next moves...
All you need to do is watch, study, and follow along with this simulation.
An inside, exclusive look into the same exact trades I'm making every single week…
Bonus #3: The 3D Profit Surge Investor Blackbook
The Top Insider Buyers With a 100% Track Record of 3D Profit Surge Success
My secret list of the top investors in the world who have a personal 100% success rate after triggering a 3D Profit Surge.
I'm talking about CEOs, executives, and directors who every time they trigger a surge by buying stock cause it to go up 100% of the time.
No joke.
They don't trigger alerts often, but when they do, I POUNCE immediately.
Having these extremely high probability trades in my back pocket helps me keep a pristine track record greater than 80%.
I've even had streaks where we are making profits on almost 9 out of 10 trades.
And I've got the entire list of these top executives.
Their names, what companies they work at, and previous insider trades they've made in the past.
I'm always keeping an eye out for who's making these trades, when they're making them, and the announcements that become public LATER…
Pushing their stock values even higher.
With this list of the top 3D Profit Surge buyers, you could be the first to know every time one of these executives buys their own stock…
These are my favorite and highest probability opportunities.
Bonus #4: Choosing The Best Stockbroker for Max Profits
Step-By-Step Instructions to Help Find Your Best Broker and How to Create an Account in Just Minutes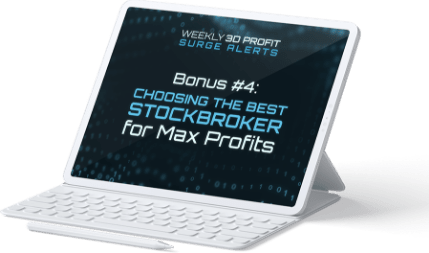 It's also critically important you understand what brokerages to place these trades with.
Technology and features are changing all the time, so I can't tell you which brokerage to use...
But I can offer some of my personal favorites for your ease of access.
This is highly overlooked but critical.
One broker might have delays on withdrawing or depositing cash, one might have super high commissions on trades, and one might not take commissions at all.
These are step-by-step instructions to choose the BEST broker account for maximum returns and safety when trading 3D Profit Surges!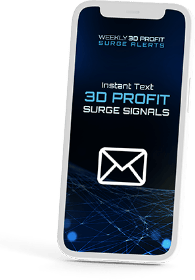 Bonus #5: 3D Profit Surge System Weekly Updates
Live Updates On What's Going On In The Markets & Corporate Insider Trading World
I want to offer more direct access to me personally.
I'd love to take questions every week and give you updates on the markets and recent 3D Profit Surges...
Everything you need to know each week to receive the full potential of your trades, and ultimately, your wealth.
I can't offer personalized trading advice, but I will be sharing weekly updates, your weekly inside surge trades, all the bonuses I'm giving today, and more...
You will also be granted personal membership access inside our private portal.
Un-restricted, password-protected access into the most exclusive trading club in the world...
Essentially, your new trading family.
This is the one centralized place to go for everything about 3D Profit Surges.
I've set up this entire system to be as simple as possible.
Literally all you need to do is wait for the 3D Profit Surge signal…
I'll give you precise entry and exit info… then it's up to you to type it into your broker and make the trade.
Simple.
Private 3D Profit Surge Access
The Most Exclusive Trading Club In The World, Creating Riches By Doing The Opposite of The Masses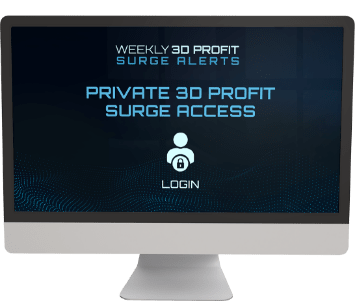 The only membership in the world that I've seen for tracking corporate insider moves in real time… with a success rate higher than 80%!
Tracking big trades every single week.
And when you become one of the new members to join today, you will immediately receive an email that says, "Your First 3D Profit Surge Play Is Waiting".
This is why it's critical that you take action right now this could be our next big winner!
In fact, your next 3D Profit Surge trade could be the next big recommendation.
Just like the last few surges I've recently spotted…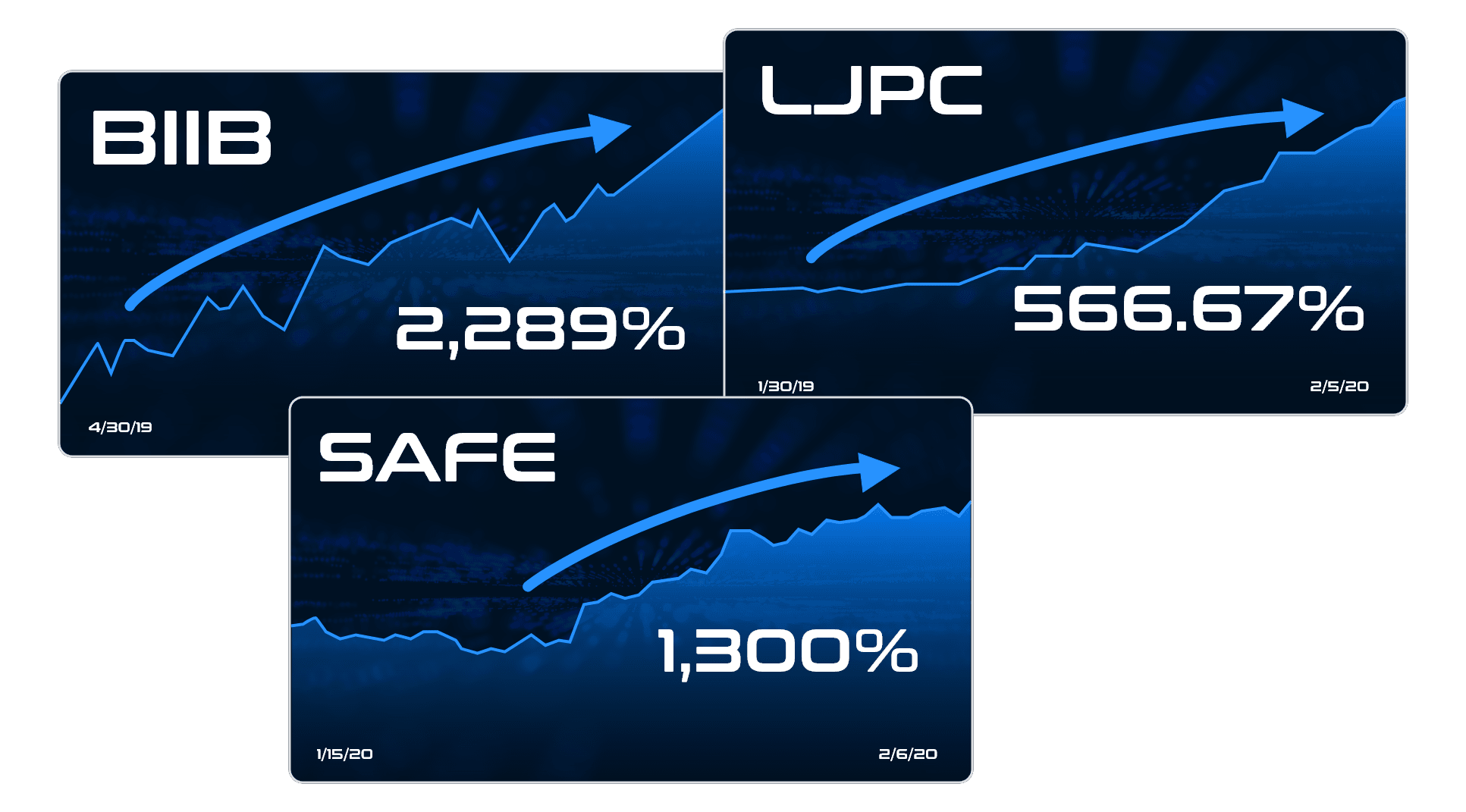 In just 3 trades, there was potential to lock in 4,156% in returns...
Offering folks a chance at over 41x times their money.
This could have easily paid for someone's membership to Weekly 3D Profit Surges and then some!
"3D Profit Surge" Alerts Ironclad Guarantee
I want to take away ANY risk on your end.
So I'm also enacting what I call The 3D Surge Guarantee.
The first dimension guarantee: If you are struggling with your 3D Profit Surge trades for any reason, call our Jacksonville-based support team and we will assign you a specialist to help you navigate your product step by step.
The second dimension guarantee: If for any reason you are not thrilled with your Weekly 3D Profit Surge trades… simply call our Jacksonville-based support team and we will happily pay for you to switch to any of our other products at WealthPress.
The third dimension guarantee: Even if you do switch products, we can still walk away as friends and you get to keep all the special bonuses I've offered here today.
Today, you have the opportunity to gain an exclusive membership into Weekly 3D Profit Surge Alerts at a special one-time new member price.
Easily the best deal I've ever made.
Now, you have a simple choice to make...
Today only you can grab 1 year of 3D Profit Surges for just $1,497.
Or you can grab 2 years of 3D Profit Surges at the lowest price of $1,995!
A complete bargain either way…
And your shot to close 100%, 150%, and even 500% in just days just like we have in the past!
All at a win rate above 80%!
Although, our smartest members will be taking their membership at the 2-year price for an instant savings of $999!
The only thing left for you to do is make a decision.
And get 1 new 3D Profit Surge trade recommendation every single week!
You can go back to your old ways of trading in the first and second dimensions of the markets… or you can start leveraging the force of 3D Profit Surges.
And in my experience... it's one of the most disruptive, safe, and profitable secrets I've ever seen…
You can take action, ignore Wall Street and biased media for trading news… or simply have me send 3D Profit Surges straight to you… every single week.
I'm talking about a strategy built for total freedom and total financial independence. You can finally relieve the stress and weight from your shoulders.
It really is this simple.
Just fill out the form below and I'll see you in the members' area!
Sincerely,
Lance Ippolito
Disclaimer: The profits and past performance discussed above are based on real issued trades from our proprietary research and are intended for illustrative purposes only. While we have had massive success in the past with the Monthly Money Flows, we cannot guarantee any specific future results, as there is always a high degree of risk involved in trading. See our terms on the WealthPress homepage for more information.